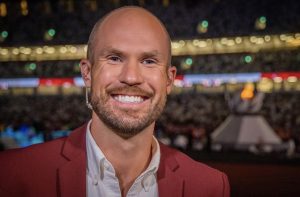 CBC Sports and News reporter Devin Heroux will join in the Karuizawa International 2023 as a special reporter.
Amazingly, he has been first fascinated by the watching curling game where Canadian women's team won the Gold medal at Nagano Olympics 1988 held in Karuizawa.
Heroux grew up in Saskatchewan, Canada surrounded by sports and became a sports journalist.
He has travelled the world covering Olympics, Paralympics, World games and so on.
And finally, this special reporter is coming to Karuizawa which is related to the origin of his career.
It is such a wonderful opportunity for us to know how he sees or feels about our bonspiel.
What discoveries can we make through his report?
Let's follow Devin Heroux's and our event's social media as shown below.
Maybe he says "Good morning sports fans from Karuizawa!"
Devin Heroux on X(ex.Twitter): @Devin_Heroux / Instagram: @drheroux
Karuizawa International on X(ex.Twitter): @karu_curling / Instagram and Facebook: @i.curling