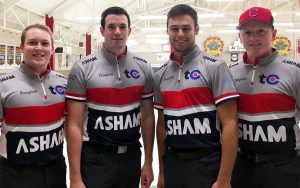 This is the 2nd year this team has been together in full.
They are currently ranked 2nd on the Canadian rankings and ranked 17th on the WCT week 11th.
This year already they have played in 3 WCT events making the semi finals in each one of them. The biggest being the Shorty for them, Jenkins Classic the weekend of September 12-15, where they defeated Kevin Koe, Glenn Howard, Thomas Ulsrud and Ross Patterson on their way to losing a close game to Brad Jacobs in the semi finals.